If you're looking for Colorado mountain property for sale, you may have some questions about the land and property that's available from Colorado Mountain Realty – Mossy Oak Properties. There's a lot of Colorado area information that you'll want to know before finalizing your purchase, so to give you a bit of a head start, we've put together answers to a few common FAQs about land for sale in Colorado.
Is Now A Good Time To Buy Land In Colorado?
It's impossible to predict the future, but current market conditions are great for buyers. Interest rates are low, and there is quite a bit of land on the market. Properties are going fast, though, so you'll want to be quick if you're interested in a particular parcel of land!
What Kind Of Properties Are Available?
At Colorado Mountain Realty – Mossy Oak Properties, we've seen (and sold) it all. From small plots of Colorado mountain property with gorgeous, fully-featured cabins, to thousand-acre ranches that have been untouched by man for decades, there's a truly enormous diversity of properties.
So, whether you're looking to live in the mountains year-round, you're interested in Colorado recreational land for sale for 4-wheeling, hunting, or camping, or you're interested in the business opportunities offered by investing in land near the Rockies, you're sure to find a piece of land that's right for you with the help of our team.
Can I Get Internet Service At My Colorado Mountain Property?
Yes. Due to the remote location of much of the ranch property for sale in Colorado, you may be worried that you won't be able to stay connected with the internet, but this is not the case. Modern advances in satellite internet make it easy to stay connected, even if your property is not serviced by cable internet providers. A few top satellite internet providers in Colorado include HughesNet, Exede, and Viasat.
What's The Weather Like In The Mountains?
Colorado gets an average of 300 sunny days per year, and while heavy snow is common throughout the late fall, winter, and early spring, this is a great time to indulge in winter sports and hobbies like cross-country skiing, snowmobiling, snowshoeing, and more.
The summer is also very mild, with plenty of sun but cool, comfortable weather. You'll likely never need air conditioning at your Colorado mountain home or cabin!
Are There Zoning Restrictions On Colorado Mountain Properties?
This depends on the exact location of the property and what it's currently being used for. Generally, parcels of land that are further from roads and towns are subject to fewer restrictions for development. Our team can tell you more about each property upon request, and ensure you understand how the piece of land can be used.
Can I Hunt Or Fish On My Own Land Without A License In Colorado?
In general, you must have a valid hunting license or fishing license when you're hunting or fishing on either public or private land – and this also means you need a license on your own personal, private property. You must also meet hunting education requirements in Colorado before purchasing a license.
So, What's the Colorado Weather Like? and Other FAQ's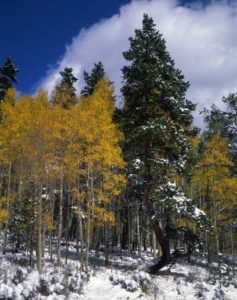 The weather is something everyone here talks about, so if you're looking to buy the perfect Colorado mountain property you'll need to know about the rapidly changing Colorado weather and these other FAQ's!!
We're here to help you make the best decisions about buying your dream Colorado mountain property.
This page will answer a few of the most frequently asked questions we get from our clients looking to buy land for sale in Colorado – even the ones about the Colorado weather.
What is BLM land?
BLM stands for the Bureau of Land Management and is a part of the U.S. Dept. of the Interior. There is approximately 264 million acres of public lands in 12 western states that they oversee.
BLM land is available for all kinds of recreational activities such as hunting, fishing, horseback riding and more, similar to what you can do in a National Forest. Having property the abuts BLM land is a wonderful advantage.
See more detailed information at the BLM website.
What is Live Water or Water Rights?
Colorado water laws are very complicated, so much so that Colorado even has it's own water courts and judges! Colorado is actually a dry state – we do have some major rivers, but most of the water from those rivers is used by other states and large municipalities.
If your land has a creek or stream on it (called surface water or live water) the right to use that surface water is deeded separately from the land.
For more information on water rights, you can find a guide here or visit the Colorado Division of Water Resources.
What is the Difference Between Household and Domestic Well Permits?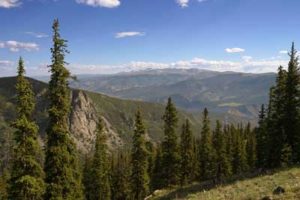 If you have less than 35 acres you would apply for a household well permit, meaning you will use the well water for household purposes only.
If you plan on raising any livestock including horses, chickens, goats, cattle, etc. on your Colorado mountain property you would need to apply for a domestic well which allows usage of water outside your home for your domestic animals, your lawn and gardens, etc. You can store water in a stock tank or irrigate up to one acre for a crop or gardens on a domestic well.
What's the Big Deal About the Colorado Weather?
Our Colorado weather is a huge draw for people in other states. We have all four seasons, although the mountain properties have shorter, cooler summers and you will probably never need air conditioning. Colorado has an average of 300 days a year that the sun shows its face at least some of the day.
In the summer months the Colorado mountains are famous for beautiful sunny mornings with thunderstorms rolling in the afternoon. The winter months bring our fair share of snow as well as bright sunshine. There's a saying in Colorado that if you don't like the weather, wait 15 minutes!
For more detailed, up to date Colorado weather information click the below links.
Hunting and Fishing in Colorado
Colorado mountain properties offer some of the state's best hunting and fishing. From the South Platte Dream Stream Gold Medal waters, to hunting elk, deer, big horned sheep and more you will find what you're looking for in the Colorado Mountains. For detailed information on hunting and fishing in Colorado please visit the Colorado Division of Wildlife.
Got More Questions? Contact Colorado Mountain Realty - Mossy Oak Properties
We know that the process of finding and vetting Colorado mountain property for sale can be difficult, and that you may have a lot of questions about the process. So why go it alone?
At Colorado Mountain Realty – Mossy Oak Properties, we've been selling ranch land in the Rockies and Colorado for decades. Our team of experienced, passionate outdoorsmen truly love the wild country of Colorado – and we have the skills, knowledge, and expertise you need to buy the right land with the pertinent Colorado area information you need.
So don't wait. Get started right away by calling us at (719)686-8744 or contacting us online. We'd be happy to answer any further questions you have, and help you find the land that's right for you.