Colorado Hunting Land For Sale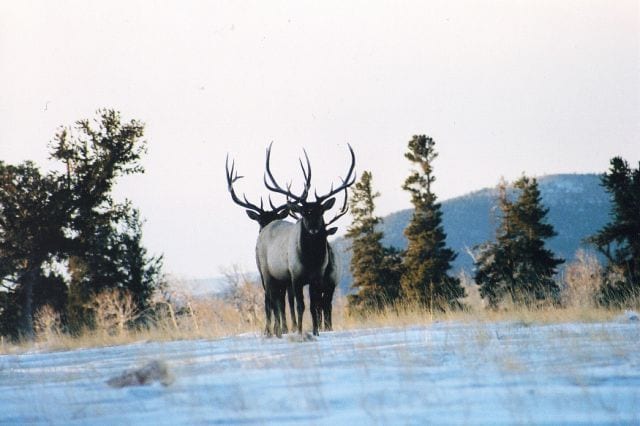 Colorado Hunting In Your Backyard
Hunting season draws thousands of hunters into the forests and plains of Colorado every year. Regardless of the vast public lands to choose from for your hunt, with each season comes larger crowds sharing national forest and grasslands.
Wouldn't it be great if you had somewhere to hunt with friends, family, or even just by yourself? By the time others are getting packed up for their trip, you could already be hunting. And, with your own private hunting land in your backyard, sharing the backdrop of Colorado's Rocky Mountains, you can't miss! Colorado Mountain Realty and Mossy Oak Properties know how important it is to find a secluded mountain property, along the water, large plots of land, to get your hunt on without all the crowds you would normally have to put up with.
Hunting Ranches/Hunting Property
Colorado was settled not long ago due to the hard work and determination of farmers and ranchers. Today, owning a ranch can be a rewarding lifestyle and is as relevant to the American dream as it was hundreds of years ago. Whether you are in the market for a multi-acre property and a few hundred heads of cattle, or just a small spread adjacent to public land, perfect for all sorts of outdoor activities, there are plenty of places left in Colorado with open fields for stalking game all day long. Colorado is no stranger to birds such as grouse, sage chickens, pheasants, or even wild turkeys. But if big game is more of what you are into, you can find mule and whitetail deer, black bear, elk, moose, bear, bighorn sheep, and even mountain lions too.
So, if you want a weekend getaway to entertain business clients or you are thinking of starting your own outfitting company, a hunting ranch may serve as a business investment for someone intrepid enough to rent out their place for hunting trips and adventures. But, for those rather greedy hunters, who enjoy the privacy of their very own hunting property, there's something for you, too. For anyone that is looking to grow a family while having access to various outdoor recreational activities like hunting, fishing, Nordic skiing, or hiking; we can help find what you are looking for.
We are your ranch property broker in Colorado and are comprised of a team of passionate outdoor enthusiasts who are local to Colorado. We love our state and take pride in having helped countless clients find their own slice of what Colorado has to offer. Check our listings for hunting properties we offer, many of which include water access, large plots, and open fields.
So whether you're looking to buy a small ranch or spend all day tracking deer through acreage, give us a call. We can help you find exactly the place you're looking for.
Private Colorado Hunting Properties
Perfect for deer, elk, boar, bear, moose, turkey, or antelope hunting!
Select from the properties below to find your next tract of Colorado hunting Land.